80km West ( Part 1)
August 2010, Ukraine.
Narodichi district, 80km West of the the city of Chernobyl.
Right after the Chernobyl disaster new settlements were started to be built to provide new homes to the evacuees, but a few were soon discontinued when it was noticed that radiation levels were not at an acceptable level.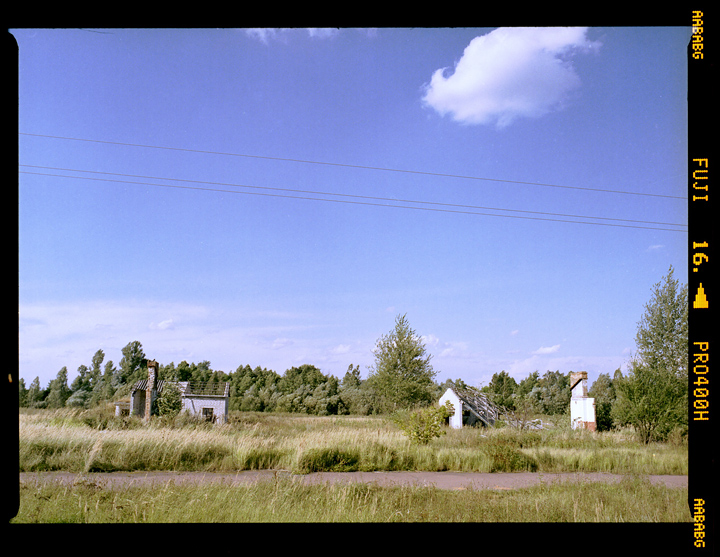 "The task facing the republic in the wake of the accident was enormous. The 92.000 people evacuated from the exclusion zone needed new homes and a massive decontamination operation was essential to make other areas relatively safe.
The state has built some 21.000 new houses and 15.000 new flats for the evacuees, and paid them more than 900.000 roubles in compensation for belongings left behind"

New Scientist magazine, 15th July 1989
Among abandoned villages and ghost towns are single farms that are still inhabited.
These people refused to evacuate or came back after month or years, after radiation levels had dropped to a point where it's not dangerous anymore to eat homegrown vegetables, fruits and meat, they say.
Most evacuees were moved to some of the Plattenbau districts in the outskirts of Kiev. So these people who were brave enough to return, also chose to live with the risks of radiation and the fate of isolation in trade with being able to stay where they had probably grown up and were happy to spend their lifetime.
"In an editorial comment, Moscow news pointed out that officials decided to evacuate three villages in the affected district of Narodichi. It asked: "If there is no danger,why are they being evacuated?"

The newspaper said that it had written testimony from one farmer where a third of the animals had been born with deformities. It noted that doctors from Kiev were not as well qualified to comment on the increased sickness rate as local physicians: "Who should know better the difference between past and present conditions if not those who have lived here for years?" it said.

New Scientist, 15th July 1989